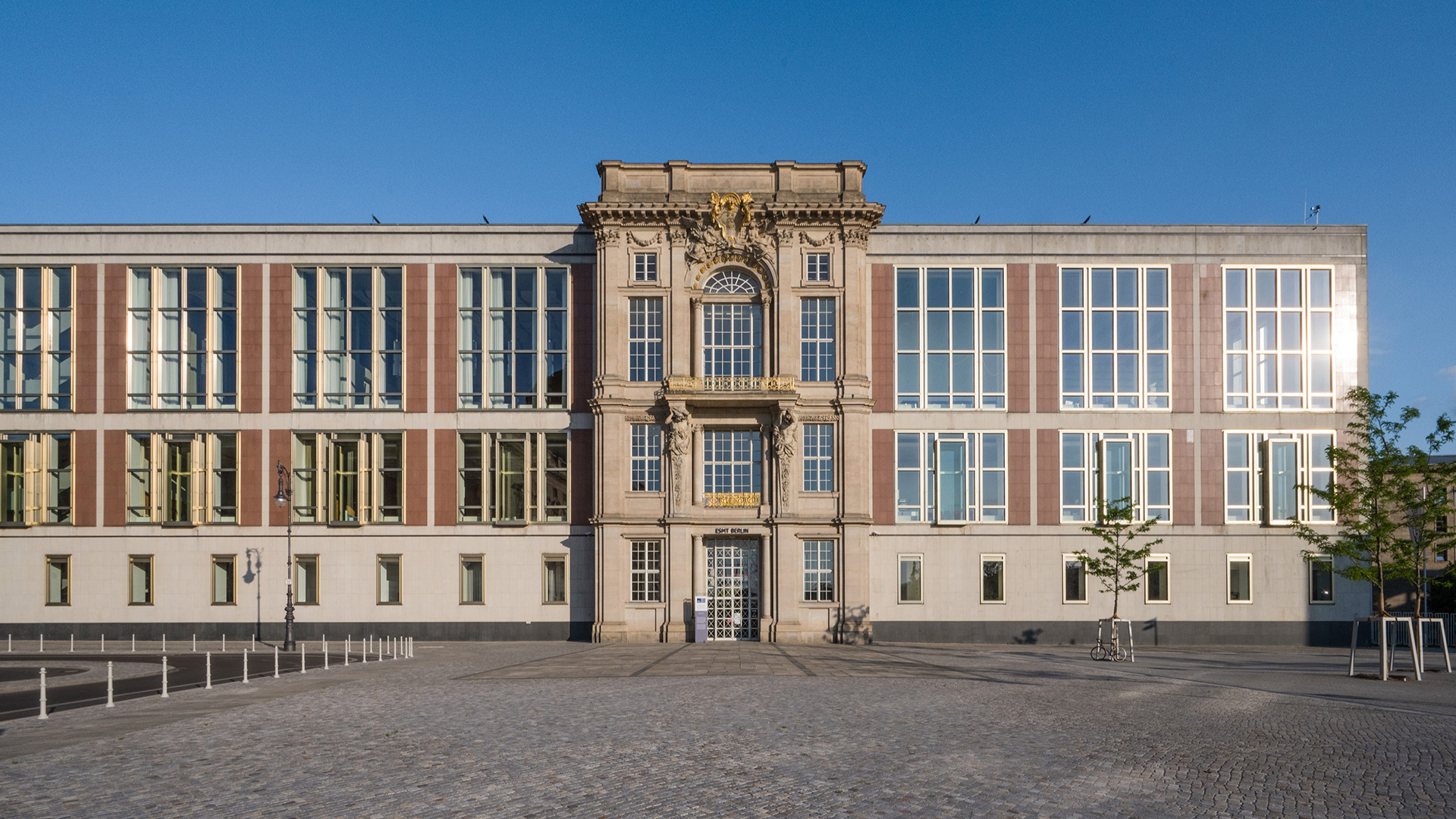 Schlossplatz 1 at ESMT Berlin is located in the historic, political, and scientific heart of the city.
Who we are
Schlossplatz 1 is home to ESMT Berlin, the highest-ranked business school in Germany and Top 10 in Europe, and is also one of the top event locations in Berlin. Founded by 25 leading global companies, ESMT offers master´s, MBA, and PhD programs, as well as executive education on its campus in Berlin, in locations around the world, online, and in online blended format. Focusing on leadership, innovation, and analytics, its diverse faculty publishes outstanding research in top academic journals. Additionally, the international business school provides an interdisciplinary platform for discourse between politics, business, and academia. ESMT is a non-profit private institution of higher education, accredited by AACSB, AMBA, EQUIS, and FIBAA, and is committed to diversity, equity, and inclusion across all its activities and communities.
History of the building
Schlossplatz 1 was erected between 1962 and 1964 and used as the office of the State Council of the former German Democratic Republic.
The building impresses with its signature façade, intricately laid leather-covered wood paneling, Meissen porcelain tiles, and stained glass throughout its spacious interiors.
From 1999 to 2001 the building served as the Federal Chancellery under the former German Federal Chancellor Gerhard Schröder.
Between 2003 and 2005 the building was extensively renovated for its new use as the campus of ESMT Berlin.
Since 2006, Schlossplatz 1 has hosted and catered an impressive array of seminars, lectures, conferences, and social events for academic institutions, government agencies, as well as associations, and companies.
Fast facts
141 meters long, 25 meters wide, and 27.5 meters high – unique among East German architecture.
3 years to build, under the direction of the architect Roland Korn from 1962 to 1964.
For 2 years (1999-2001) the building was the seat of the Federal Chancellery under the former Chancellor.
36 million euro for renovation and modernization from 2003 to 2005.
4 million euro for further expansion from 2016 to 2017.
Credit: "Schlossplatz Berlin" by Philipp Meuser (DOM Publishers, 2016)
Schlossplatz 1 experiences